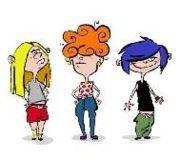 The kankers are the only ones who like the eds.
Edit
May Kanker,Lee Kanker And Marie Kanker
Edit
May likes Ed.

Lee likes Eddy.

Marie Likes Edd.

The Kankers are the evils of the cul de sac.
Everyone is afraid of them.The Eds were able to scare them on "twist of ed" this episode Is on youtube.

They are very strong not as strong as Ed but can inflict damage.They all love to wrestle.

There favorite item is their family ship in the bottle. they are gigantic bullies and when eddy yells at them they start to cry. and lee doesn't care if she did care would have not undertaken of rethink avenue. lee also similar to molly macdonald from Arthur and kyle of fanboy and chum chum they all got the same red hair and pale skin and freckles lee was on icarly and she had her strange behavior like screaming throwing voice changing and she was so scared of nanny mcphe because of her face.
They had three diffrent dads.
They all have weird hair dudes.
May is the strongest
Lee is like eddy
Lee is very smart
Ad blocker interference detected!
Wikia is a free-to-use site that makes money from advertising. We have a modified experience for viewers using ad blockers

Wikia is not accessible if you've made further modifications. Remove the custom ad blocker rule(s) and the page will load as expected.