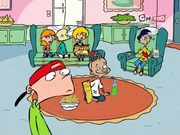 Is the mean jock of the show
Edit
He hates the eds and his favorite word is dork.

He makes up words with dork like dorkbusters or dork alert.

kevin loves nazz and his bike.Ih the show he's mostly on it.Kevin

Is the leader of the peach creek cobblers.He beats up in many coccausions.

he also is scared of eddy's brother.
He will be nice to the eds on big pictures shows.
In the mis edevntures on a tree it says sarah + kevin
Kevin is a saftey patrol
kevin helps out the gym teacher