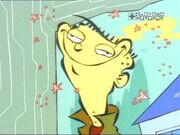 Ed is a stink,lazy,smelly ed boy. Ed is stron and dumb.Not always a perfect combination.
Edit
Ed helps Eddy in most of his scams.Ed injured Eddyed newmorus of times like in Cry ed.He threw a house at Eddy.

Ed is also in love with chickens.His best friends are of course Edd/Double Dee and Eddy .He
is the mascot of the peach creek cobblers.he has many altro egos like edapuss edzilla and snuggle me ed.
He got married to may.Ed gets angry when a pebble is in his shoe.Ed loves monster movies.He also has
a collcection of them.When he grows up he wants to be rice crystal style.
Ed is smart
Edit
Ed has shown smartness in some episodes.In hand me down ed his oppitsite side was being smart.


In rent a ed ed says his brain is working.This means his brain never functions.
His middle name is Horris
He has super human strength
he always wanted to be a ballet dancer